Courses
Questions on how to register?
For Students
Earn either undergraduate or graduate level credit by taking a course instructed by the authors, Paul M. Bingham and Joanne Souza. We explore in detail the new theory of human uniqueness described in Death from a Distance and the Birth of a Humane Universe. We re-examine all the vast repertoire of knowledge from the evolutionary and social sciences from an exciting new perspective. See how the natural and social sciences can be united for the first time - while we learn to think critically together and explore the art of scientific investigation.
ONLINE Graduate Credit (CEB 553)
Spring, Summer, and Fall Semesters - Available World-Wide
- Approved content component of the Stony Brook University Biology MAT program.
- The Biology of Being Human (CEB553), 3-credit course, now available world-wide online. Course content given via broadcast quality video lectures.
- Can be taken by teachers for Master's and advancement credit with your institution's approval.
- See here for information and registration for the online graduate course (CEB 553).
Undergraduate Credit (BIO 358)
ON-LINE Course - Summer Semester
- All students (you do not have to be a Stony Brook University Student). See here under On-line Extended Session listing for information and to register for the summer extended session online course (BIO 358).
- Take advantage of the opportunity to take a Stony Brook University Upper Division Biology course during the summer term at state university pricing. Check with your institution and major for transfer approval.
LIVE LECTURE Spring Semester
- Stony Brook University Students only See SOLAR for information for class listings for the live lecture course (BIO 358).
Student Testimonials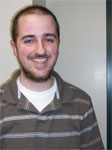 "This course gave me the rare opportunity to see humanity from an entirely new perspective. Basic principles of chemistry and biology that I explored in other classes were used to form a simple, rational explanation of our social behavior and natural history. The fusion of all these disciplines within one course sparks a very stimulating discussion within the class. I thoroughly enjoyed the subjects investigated in this class and recommend it to anyone who wants to better understand the human species." - John Hughes

Show more...
For Faculty
For faculty wishing to teach the content in Death from a Distance and the Birth of a Humane Universe, please contact the authors.